---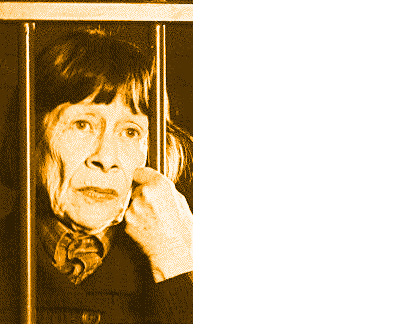 01.05.2013
Wentworth, the remake of Prisoner set during Bea Smith's early years in prison, starts tonight in Australia. Here's the officlal site. It's been bought by Channel 5 for showing in the UK later this year.
26.02.2013
Time to get out your boxed sets (or videocassettes) to celebrate the anniversary of the showing of the first episode in 1979 in Sydney - or wait till the 27th to celebrate the first showing in Melbourne...
18.02.2013
Changed the pictures on the home page to reflect the release next week of the UK volume 18 covering episodes (553) to (600)
01.01.2013
Updated the Edna Pearson pages to mention the showing of the cut versions on 111 Hits and added some links to articles in google's newspaper archive covering the Emily Perry court cases.
31.12.2012
Just in time for the New Year, have managed to complete the installation of the InstaComment facility on all the episode pages. Apologies for the sometimes bizarre advertising bars at the top of the comments box, which have included a website for tracing your ancestors who have been in prison... If you want to add comments to other pages, let me know using the email at the bottom of this page.
18.11.2012
Started to put the previous comments back on the website from episode 1 onwards using InstaComment. You can probably see how far I've got from the Recent Comments bar opposite.
07.10.2012
I've uploaded a temporary solution for episodes (400) to (692), involving a text box to pull in the comments for each page and an explanation with email address to use for any new comments. Sorry about the scroll bars in Internet Explorer. I'll probably either do the rest next weekend, or hopefully have worked out a proper solution.
30.09.2012
As the comments widget used on this site is being discontinued tomorrow, I've spent the day (about 10 hours in fact) making backup of the existing comments on each of the 692 episode pages. When I've worked out how to install a replacement comment facility (probably Disqus) I'll put the all the existing comments on a particular episode back as the first post under the new system. As this will have to be done page by page, I'm planning to start at episode 400 which the repeat run on 111hits in Australia reached a couple of weeks ago and go forwards, so this will soon cover the most recently issued DVD set in the UK (vol 16 episodes 481-512). However, if you want to request the comments facility on a particular episode page, please email me at the email address at the bottom of this page (it does work now) and I'll add it to the list and do it out of sequence. Note that if you added any comments to the old system after about 7:30 pm GMT today they won't be included in the copies I've taken and won't be transferred to the new system.
13.05.2011
Changed the home page pictures to reflect the UK April release of volume 7 of the complete DVD set covering episodes (193)-224.
13.02.2011
Thanks to Mr Solo5 for confirming the broadcast dates for episodes (298) onwards on Westcountry from his personal diaries. I have put all of these into the ITV broadcast pages for 1993, 1994, 1995, 1996 and 1997-1999.
Thanks to the people who have been adding comments and apologies to anyone who has sent information I haven't included.
14.02.2010
Thanks to the anonymous Guest who pointed out I had the timing wrong for episode (470) on the new "Edna Pearson story" set and had therefore missed that the version of this episode was the same cut version as on all previous TV broadcasts in the UK, and not the uncut verson after all.
08.02.2010
Apologies to the keen listings fans who have sent me updated information - I haven't had enough spare time to do the new info justice, but I promise I will get round to it eventually.
However, I couldn't leave unmarked the new DVD release of "The Edna Pearson story" so I've done a quick update to the main Edna page and the episode pages to reflect the timings of the uncut episodes from 463 to 470, but not 471, as there is sadly no uncut version of that on the new DVDs. I've also put Edna on the home page.
Thanks to the people who've added comments recently, even if most of them are correcting my mistakes...
29.11.2009
Thanks to Steve West for sending an updated version of his research into Melbourne broadcast dates from the weekly TV magazine "TV Scene". This fills in all the gaps in the table of original broadcast dates, apart from episode 686. As Steve points out though, these do not represent the earliest broadcast dates in all cases: most episodes up to 246 were shown first in Sydney, even though it may have been only one day earlier for most of 1979-1981. More on this later, possibly.
22.11.2009
The Talking TelevisionAU site has reached the end of Prisoner's first year. It confirms that the year finale was shown in the week 24th-30th November. The brief description of the episodes are unfortunately pretty vaguea, and while I think they definitely rule out (82) as the last episode, they don't conclusively establish (79) as the final episode - I've added comments on this to the page on "The Age" listings.
Revised versions of ITV listings pages for 1993 with episode numbers for some regions.
Thanks to pcoveruk for spotting the listing in The Age for the first episode of 1986 (scroll left to see the listing).
Thanks to people who've been adding comments on particular episodes - the most recent ones can be found here.
23.10.2009
I've changed my mind about one of the cliffhanger episodes. From researching the TV listings in the Melbourne newspaper "The Age" it looks like the 1979 season ended with episode (79) and not, as previously stated on this site, episode (82). The page listing the original Melbourne dates has been updated with revised dates for 1979 and early 1980 and also additional dates for (213)-(215) contributed by "Vera Bennett". I've also updated the page listing the cliffhangers.
18.10.2009
Revised versions of ITV listings pages for 1996 and 1997-99 using dates for Ulster broadcasts provided by Mark Moorhead. I've also included some listings times for Saturday episodes in 1989: thanks to Brendan Delaney for checking these up in the archives of the Birmingham Evening Mail at Birmingham Central Library.
11.10.2009
Revised version of ITV listings page for 1994.
Thanks to "Vera Bennett" for pointing out that it's possible to find listings for the original Melbourne broadcast run using google's newspaper archive search - just put in a range of dates and The Age as the source. Television listings in this Melbourne paper are usually on page 2, and they often include a plot description sufficient to identify the particular episode. Despite some gaps, it's possible to put together a reasonably accurate list of dates for the first showing in Australia. There is also some coverage of the Sydney Morning Herald. For instance, on this page is a listing for 31st March 1987 which seems to be (670). Can anyone find any other Australian papers with local TV listings?
28.09.2009
ITV listings pages done for 1995, 1996 and 1997-99 with a new section at the bottom of the page pointing out where it differs from the now deleted wikipedia page which lists the first and last episode for each region in each year. Even if they apparently agree, it would be useful to have any confirmation of dates of particular episodes for any region apart from Central and Granada. I'll work backwards to complete the other pages and add in the comparison to the wikipedia page.
13.09.2009
I was hoping to have finished the ITV listings pages by now, but the Guardian archive has been unavailable for a couple of days. I hope this is only temporary but I've put up what I have so far from 1990, 1991, 1992, 1993, 1994, and 1995 even if some of it is incomplete. However, there is now a full set of dates for Central's first run. Thanks to Jason Rigby for his list of Central and Anglia dates, and to "Vera Bennett" and pcoveruk for comments and corrections.
24.08.2009
Revised the 1988 ITV listings page to include episode links and added a page for 1989 listings with some episode links.
16.08.2009
Bare bones versions of ITV schedules for 1984-1986, 1987 and 1988, the last of these without any episode numbers. If you have any early recording of episodes from these years, please let me know, as you might be able to help confirm the dating of particular episodes.
14.08.2009
Noticed that the comments prompt on most pages wasn't working, due to my failure to paste the correct code. Changed this so it now works (I hope) and also changed the remaining image links on the episode pages to popups. The ITV listings pages are progressing slowly but I'll post whatever I have completed on Sunday.
18.07.2009
All 692 episodes are now on a separate page with a comments section: thanks to the people who've started to use this. I've also added the ITV broadcast details sent to me a while ago by "Vera Bennett" for the first 130 episodes. I've had more information sent to me by Jason Rigby with a full set of dates for Central's showings and some Anglia dates, but I'm going to hold off putting these up as I've decided to subscribe to the Guardian's Digital Archive to download their TV listings pages and try to do a full reconstruction of the ITV regional broadcast history of the series. Watch out for a new section on this soon.
Thanks to Mark Branch for a couple of corrections to the character pages on Caroline Simpson and Vivienne Williams.
02.07.2009
Separate episode pages with a comments section now done up to (400).
22.06.2009
Found an interesting blog Talking TelevisionAU, one strand of which is to look at Australian TV 30 years ago through coverage in "TV Times", so it has now reached the first year of "Prisoner". Here's the link for the blog entries that are tagged Prisoner.
21.06.2009
The separate episode pages now have a comments section where visitors can add extra notes or corrections or opinions or anything relevant to particular episodes. This has been completed up to (125) so far. It looks like this will take a couple of months to complete, so I will leave the conversion of the remaining image links to popups until this is finished.
Older updates are on the update log page.
---
Comments and suggestions welcome at
---