---
EPISODES (516) to (520)
516 * 517 * 518 * 519 * 520
---
EPISODE 516

Broadcast on Meridian Tuesday 22 July 1997 23:50; Channel 5 Sunday 30 May 1999 04:40. Coleby offers Ann a new job away from Wentworth. Lou steals Fran's zip gun. Lou grabs Joan and, in the corridor, Myra hears a shot followed by a scream.

CREDITS

Joan ~ Maggie Kirkpatrick
Ann ~ Gerda Nicolson
Myra ~ Anne Phelan
Dennis ~ Nigel Bradshaw
Marlene ~ Genevieve Lemon
Lou ~ Louise Siversen
Lexie ~ Pepe Trevor
Sam ~ Robyn Gibbes
Janice ~ Jenny Ludlam
Matt ~ Peter Bensley
Geoff ~ Les Dayman
Frank ~ Trevor Kent
Yemil ~ Maria Mercedes
Ettie ~ Lois Ramsay
Andrea Radcliffe ~ Marion Dimmick
Bob Taylor ~ Terence Donovan
William Coleby ~ Hu Pryce
Kath ~ Michele Sargent
Written by Ian Coughlan
Directed by Kendal Flanagan
Jan is eventually sick and seems to sober up a little, especially after Lexie slaps her face. Matt has to cover for Geoff when Officer Radcliffe comes to the rec room and wants to know where he is, so Matt has to distract her by asking her to take him to her cell to collect a book. Matt finds Geoff with Myra in isolation and is told to go out again and pretend no-one was there. Myra gets Jan to say where she got the drink from, confiscates the rest of her money then knocks her out to keep her quiet. Myra then goes to Lou's cell to tell her that she won't be selling any more booze to Jan. Geoff tries to put Sam off attempting her escape immediately by saying the robot isn't ready yet. Myra and Geoff have a public disagreement to make it look as though they aren't even friends. Jan has hallucinations in her cell after lights out. Ettie demands to see the Governor, but has forgotten what she wanted to complain about by the time she sees Ann. Lou refuses to supply Jan with any more booze unless he sees the cash first. Frank saws part of the leg off a tubular steel chair and is obviously planning to turn it into a gun barrel. Dennis lets Ann know that one of the officers is pushing for them to be armed if they have to escort prisoners outside. Lou demands her drugs back from Joan, but Joan threatens to plant them on her at any time to get her an extra 12 months on her sentence. Mr Coleby (who appears to teleport direct from the Department a mere few minutes after Ann phones him) agrees to the Union's demand to be armed, despite Ann's protests. Frank offers to get booze for Jan, but she refuses when he makes it clear how he wants to be paid. Mr Taylor meets Joan for lunch and apologises for his wife's remarks to her. Sam tries to phone her sister, but whoever answers the phone hangs up on her. Dennis tells the women that Yemil has got a suspended sentence, so Ettie is moved in to share the cell with Jan. Coleby offers Ann promotion to adviser on women's rehabilitation schemes. Frank hides the gun he has made to get it out of the workshop. Frank tries to collect from Jan and she lays back resignedly to let him get on with it. Lou tells Kath she intends to kill Joan and frame Myra for it. Ettie sees Frank lying on top of Jan when she moves to her new cell and hits him over the head with a vase. Geoff tells Myra about Sam's escape plans to try to get her talk to Sam and dissuade her. Lou meets Frank walking along the corridor and takes the gun from him. Myra is unable to argue against Sam when she brings up her own escape to help her daughter Kay. Kath brings Joan to Myra's cell and goes to get Myra. As Kath and Myra are walking along the corridor towards the cell, they hear a gunshot...

Dennis calls out "Greenaway" at muster and is corrected in chorus by the women, which sounds like a production in-joke.

Ettie refers to a prison as "Worrigle"?

Myra uses the name for the background prisoner "Jenny".
---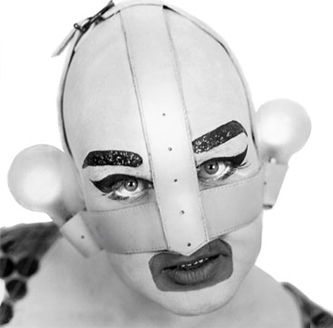 When I last updated this page in 1999, I don't think I'd have heard of performance artist and exhibitionist Leigh Bowery, perhaps best known from his appearance as a character in the musical "Taboo" (2002). Viewing this episode with the knowledge that Bowery was born in Australia, I briefly toyed with the idea that a traumatic childhood memory of Sam's robot
may have influenced some of his more extreme costumes, but the dates sadly rule it out - he came to England in 1980. Maybe a traumatic experience of a late night showing of Prisoner in England is to blame?
---
EPISODE 517

Broadcast on Meridian Tuesday 29th July 1997 23:40; Channel 5 Saturday 05 June 1999 04:40. Ann tells the confused officers - who didn't know there had been an escape - that Sam has given herself up. Myra gives up on Jan when she hits the bottle again.

CREDITS

Joan ~ Maggie Kirkpatrick
Ann ~ Gerda Nicolson
Myra ~ Anne Phelan
Dennis ~ Nigel Bradshaw
Marlene ~ Genevieve Lemon
Lou ~ Louise Siversen
Lexie ~ Pepe Trevor
Joyce ~ Joy Westmore
Sam ~ Robyn Gibbes
Matt ~ Peter Bensley
Geoff ~ Les Dayman
Frank ~ Trevor Kent
Janice ~ Jenny Ludlam
Ettie ~ Lois Ramsay
Alice ~ Lois Collinder
Kath ~ Michele Sargent
Mrs Phillips ~ Janet Lord
Sally Phillips ~ Jenny Young
Pat Slattery ~ Dorothy Cutts
Andrea Radcliffe ~ Marion Dimmick
Delivery Man 1 ~ Ron Bingham
Delivery Man 2 ~ Greg Fleet
Gate Guard ~ Brad Lindsay
Written by Fay Rousseaux
Directed by Chris Adshead
... but the gun has backfired and badly injured Lou's hand. Myra turns on Kath when Joan tells her Lou was planning to set her up to be caught with Joan's body. Nevertheless, Myra sends her to fetch the sister for Lou. Jan turns up to the dining room drunk to Myra's disgust. Suspicion for making the gun falls on Frank and Ann orders body searches for anyone with access to the workshop. Myra searches the cells but after she has given Jan a lecture and left, Jan goes for a reserve supply of meths hidden under Ettie's mattress. Myra agrees to help Geoff with Sam's escape. However, Frank seems to have worked out the secret purpose of the robot. Jan promises to try and give up the booze when Myra threatens to get an officer to deal with her. Myra seems to fall for Jan's pathetic sob story and says she will try to help her, but she pushes her under a cold shower to sober her up. Joyce returns to work with her arm in a sling. The women are told about escape and Lexie is amazed that Sam seems to be intending to return. Sam finds out that the robot is to be collected within the hour. Ann confides to Dennis that she will be starting a new job outside Wentworth. Frank gets Dennis to let him out of the workshop so he can try to get inside the robot, but Myra meets him in a corridor and detains him with a blast in the face from a fire extinguisher. The workmen load the robot onto the back of a truck. Joyce is sufficiently distracted by Ettie's blathering not to follow up when she notices Sam is missing. Dennis dryly points out to Joan that she won't want the Governor's job as she won't be able to carry a firearm. Jan finds the money Myra took from her and gives it to Alice to get drink for her. Dennis has a message from the deaf school for Sam to thank her for the robot, though her absence still hasn't been noticed. Sam goes to her mother's house - her sister tries to prevent her seeing her mother, but in a face to face confrontation her mother rejects her, saying she didn't want her eighteen years ago and doesn't want her now. Len's trial makes the papers: both the officers and the women are relieved. Ann wants a report from all the officers as Sam has turned herself in at a police station. Sam is brought back and is told she will have to face the VJ: Ann admits she already knew her mother's attitude but didn't tell her because her sister thought she could win her round. Alice gives Jan some meths in a bleach bottle, but Myra arrives in time to recover the money from Alice but then gives it back to Jan, saying she can kill herself with drink if she wants to. Myra tells the women to gang up on Frank to get him to leave the rec room and go to his cell. Ann tells the women they will lose buyup for two weeks for concealing the fact that Sam had escaped. Jan gets stomach cramps after drinking Alice's booze. Myra and Geoff let themselves into solitary and go for Frank. Myra holds up a smoking soldering iron with the words "This is for Pixie..."

Dennis says "Angela" rather than Andrea Radcliffe, but that could be a line fluff.

Marlene reads out Len's name as "Leonard Arthur Murphy" but in (511) when Inspector Thorne arrested him, it was given as Leonard Edwin Murphy.
---
EPISODE 518

Broadcast on Meridian Tuesday 12th August 1997 23:30; Channel 5 Sunday 06 June 1999 04:40. Sam defiles the drawing of her mother. Lou steals a palette knife. The escape attempt misfires.

CREDITS

Joan ~ Maggie Kirkpatrick
Ann ~ Gerda Nicolson
Myra ~ Anne Phelan
Dennis ~ Nigel Bradshaw
Marlene ~ Genevieve Lemon
Lou ~ Louise Siversen
Lexie ~ Pepe Trevor
Joyce ~ Joy Westmore
Sam ~ Robyn Gibbes
Janice ~ Jenny Ludlam
Ettie ~ Lois Ramsay
Sally Phillips ~ Jenny Young
Matt ~ Peter Bensley
Geoff ~ Les Dayman
Frank ~ Trevor Kent
William Coleby ~ Hu Pryce
Bob Taylor ~ Terence Donovan
Marnie Taylor ~ Joy Dunstan
Shane Munroe ~ Robert Summers
Tracey Taylor ~ Rachael Brunsden
Pat Slattery ~ Dorothy Cutts
Andrea Radcliffe ~ Marion Dimmick
Sister Hall ~ Gael Andrews
Gate Guard ~ Rod Allen
Billy Vinton ~ Conor McDermottoe
Joe Nash ~ Glen Rueland
Waiter ~ Fred Herz
Written by Coral Drouyn
Directed by Chris Adshead
Myra and Geoff go down the stairs from isolation after dealing with Frank. Frank seems to be in pain and inspects his face in the mirror: he has a tiny "R" (for "Rapist") burnt into his forehead . Joan goes to visit Shane at the Taylors. Jan hallucinates a barking Alsatian in her cell and Myra and Ettie have to help her down off the sink unit where she has climbed to get away from it. The women are keen to know what Frank's punishment was, but not so keen when they hear the gory details, particularly Marlene who goes off to her cell to be sick. Matt follows her to see how she is and they end up kissing again. In a fit of anger Shane hits Tracey in the face with a pingpong bat, but Joan refuses to stand up for Shane when Mr Taylor puts him over his knee and spanks him. Ettie puts on a dizzy act and asks Dennis for a password to prevent him seeing Jan at lockup. Joan decides she should stop seeing Shane to give him a chance to get used to the idea of living with the Taylors. Frank disguises his "R" by burning his forehead with a lighted cigarette. Sam wishes Judy was back from solitary, as she wants to speak to her about her problems. Dennis is reading Ettie's file and notes that most of it is duplicates dating from the Sixties. Geoff denies any knowledge of Sam's escape plan. Officer Slattery tells Ann that Frank's story of burning himself while smoking in bed is substantiated by burn marks in his pillow and mattress, but neither she nor Ann believe that is what really happened. Frank gets a letter with a note hidden under the stamp which says just "TODAY" . Jan's curiosity is provoked when Ettie claims she's still on remand .. after 43 years. Lou returns from hospital: Joan's sarcastic concern that she'd lost a few fingers gets the quip in reply that she needs them all to talk to her. Sam scrawls all over the drawing of her mother. Ann reminds Lou she has twice attempted to kill an officer and she is lucky she isn't being transferred to Blackmoor. Joyce takes a phone call saying the men are to be transferred. Mr Coleby takes Ann to his gentlemen's club and insists she calls him Bill. Ettie vaguely remembers a trial but thinks her lawyer was Perry Mason. Joyce isn't able to check with either Ann or Mr Coleby about the transfer of the male prisoners. Sally visits Sam, but Sam rejects her and her offer to talk her mother . Ettie passes on what she overheard outside the staff room: Ann is leaving and the men are going. Marlene runs to the workshop to find out if it is true. Lou hides Sam's palette knife in her sling. Myra slaps Marlene when she accuses her of not caring that the men are leaving. Ann and Coleby arrive back from lunch as the men are being taken away in the fake police van. Joan shoots one of the "policemen". Frank tries to get away in the car, but the gate guard stops the car by shooting out one of the tyres. Frank fights the guard and gets his gun but Dennis stops him as he is climbing the gate.

The gate guard is called John when Joyce speaks to him on the phone.

Another Greenway masterpiece
---
EPISODE 519

Broadcast on Meridian Tuesday 26th August 1997 23:50; Channel 5 Saturday 12 June 1999 04:40. Marl gets permission to throw a surprise party for Myra. Joan finds Sam about to kill herself. And Jan tells the women that Ettie is illegally imprisoned and could make a lot of money.

CREDITS

Meg ~ Elspeth Ballantyne
Judy ~ Betty Bobbitt
Joan ~ Maggie Kirkpatrick
Ann ~ Gerda Nicolson
Myra ~ Anne Phelan
Dennis ~ Nigel Bradshaw
Marlene ~ Genevieve Lemon
Lou ~ Louise Siversen
Lexie ~ Pepe Trevor
Joyce ~ Joy Westmore
Sam ~ Robyn Gibbes
Janice ~ Jenny Ludlam
Ettie ~ Lois Ramsay
Matt ~ Peter Bensley
Geoff ~ Les Dayman
Frank ~ Trevor Kent
Sheila ~ Colleen Hewett
Kath ~ Michele Sargent
Policewoman ~ Carolyn Kennett
Written by James Simmonds & Alistair (sic) Webb
Directed by Sean Nash
Marlene speculates that Matt is dead (presumably the women have heard the shots?) Frank is taken back inside and Joyce is worried that she will be blamed for signing the fake release papers. Judy is released from solitary and Dennis (somewhat stupidly?) explains to her what the shooting was all about. Judy duly passes it on to the women in the laundry and confirms that the men have not been transferred. Lou shows Kath the sharpened knife and says she will use it on Myra first then Frank. Sheila Maureen Brady arrives at Wentworth on drug possession charges: the policewoman comments not to stand to close to her as she's "a bit on the nose". Joyce hustles her off to the shower as soon as possible. Sam shows Judy the card from the deaf children, but refuses to talk about her personal feelings about being rejected by her mother. Marlene is relieved to see Matt is unharmed. Judy tells Myra not to worry about the women as Bea got the same treatment when she branded Nola. Ann tells the women she will be leaving Wentworth. Meg is out of hospital and tells Dennis she won't be applying for Ann's job when she leaves. Marlene tries to apologise to Sheila for the remark she made about her smell: she tells Marlene she was arrested for holding heroin for the rock groups she hung around with. Myra once again falls for Kath's decoy routine and is led to Lou's cell to be finished off: Myra lays them both out and recovers the knife, finishing off by treading on Lou's injured hand. Myra gives Sam the knife back and tells her to keep it hidden in future. Joan sweeps Sam's drawings onto the floor and Judy sees to her surprise that they are all of her. Sheila sings the blues in the dark. Ettie comforts Jan as she has a nasty turn in the middle of the night. Dennis has to show Sheila how to make a bed, as she's never done it before. Meg returns to work. Marlene plans a surprise party for Myra's 40th birthday. Judy tries to break it to Sheila gently, but Lexie is more brutal and tells her she "stinks". Sheila won't let Ettie take her clothes away to be washed. Lou and Kath steal a song that Judy is writing and Sam gets it's back for her. Sam overhears Lou and Kath plotting to kill Myra and thinks they mean Judy. Judy is annoyed when Sam has a go at Lou and tells her to leave it to people who can handle it. Lou approaches Sheila to get her to bring drugs in, but she refuses. Sam feels that everything has gone wrong for her and contemplates suicide with the palette knife but Joan stops her. After seeing the papers brought in by a visitor, Jan discovers Ettie has been in prison for 45 years without trial, and advises her to apply for compensation.

Sheila's tatty red teeshirt reads "Mother Blood and the Haemophiliacs" - is this a real group or a made-up one?

Lexie refers to Matt and Marlene "Torville and Dean".
---
EPISODE 520

Broadcast on Meridian Tuesday 2nd September 1997 23:55; Channel 5 Sunday 13 June 1999 04:45. The women are excited about Ettie's news. Lou finds Sam dead, and with Alice's help tries to make it look like suicide by hanging the body in Sam's cell.

CREDITS

Meg ~ Elspeth Ballantyne
Judy ~ Betty Bobbitt
Joan ~ Maggie Kirkpatrick
Ann ~ Gerda Nicolson
Myra ~ Anne Phelan
Dennis ~ Nigel Bradshaw
Marlene ~ Genevieve Lemon
Lou ~ Louise Siversen
Lexie ~ Pepe Trevor
Joyce ~ Joy Westmore
Sam ~ Robyn Gibbes
Janice ~ Jenny Ludlam
Matt ~ Peter Bensley
Geoff ~ Les Dayman
Frank ~ Trevor Kent
Ettie ~ Lois Ramsay
Sheila ~ Coleen Hewett
Alice ~ Lois Collinder
Andrew Fry ~ Howard Bell
Mr Burton ~ Roy Baldwin
Mrs Latimer ~ Penelope Shelton
Written by Ian Smith
Directed by Sean Nash
Jan speculates that Ettie is due for $500,00 compensation and Ettie insists that Jan should handle her case. Myra is worried that the women seem to be ignoring her. Ann threatens Sam with psychiatric evaluation, and tells her she is to be retried. Sam is confused and says she can't leave Judy. Jan tries to find out the facts about Ettie's case: about the olny solid fact she gets is that Ettie was born in 1921 and she soon starts to ramble on about her family keeping her out of sight because she wasn't "the full quid". When Judy blames Sam for Ann questioning her about the nature of their relationship, Sam calls her "Mum" by mistake. Lexie takes the opportunity of Sheila having a shower to throw all her clothes in the skip to be washed and to do her up as a Lexie clone. Joan accuses Myra of branding Frank and warns her to stay away from him. Jan presents the papers about Ettie to Ann. Judy gets Sheila to sing "Pixie's Song". Myra is convinced the women are against her and her children have forgotten her on her birthday. Joan taunts Sheila and tells her not to get used to pretty dresses as she'll be in uniform after her trial. Myra asks Ann if she can be transferred to Barnhurst, but the women spring the surprise birthday party in the rec room . Sheila gives Lexie her dress back and returns to wearing her leather jacket. Alice tells Lou that Ray has brandy in the kitchen and is getting drunk after an argument with his boyfriend. Dennis lets Frank out of solitary, but heavies him when he makes a slighting remark about Pixie. Judy gets Myra to come to the rec room by saying that all the women want to tell her something: she is overcome when she finds out about the surprise party. Lou wires the door handle of Myra's cell to the power point, then asks Ettie to tell Myra that there is a surprise present in her cell. Joyce demonstrates her tap dancing skills to entertain the women. Myra leaves the rec room to see Geoff after talking to Ettie, so Lou assumes her plan is working. Ettie remembers she had a message for Myra and tells Sam, who goes to get the present. Alice tells Lou that Ettie has not given the message to Myra, so they follow Sam and find her dead outside Myra's cell . Myra meanwhile is in bed with Geoff. Lou offers to sell Jan a bottle of Ray's brandy. Andrew Fry's bitchy friends reveal to Ann that the real reason for her offer of promotion is to keep her out of harm's way. Judy goes to look for Sam and finds her hanging in their cell .

Ray is mentioned by Marlene as being involved in the preparations for Myra's party.

Tammy is seen dancing closely with "Ros" at the party.

Sam's picture of Myra
---
---
Updated ~ 17 September 2008